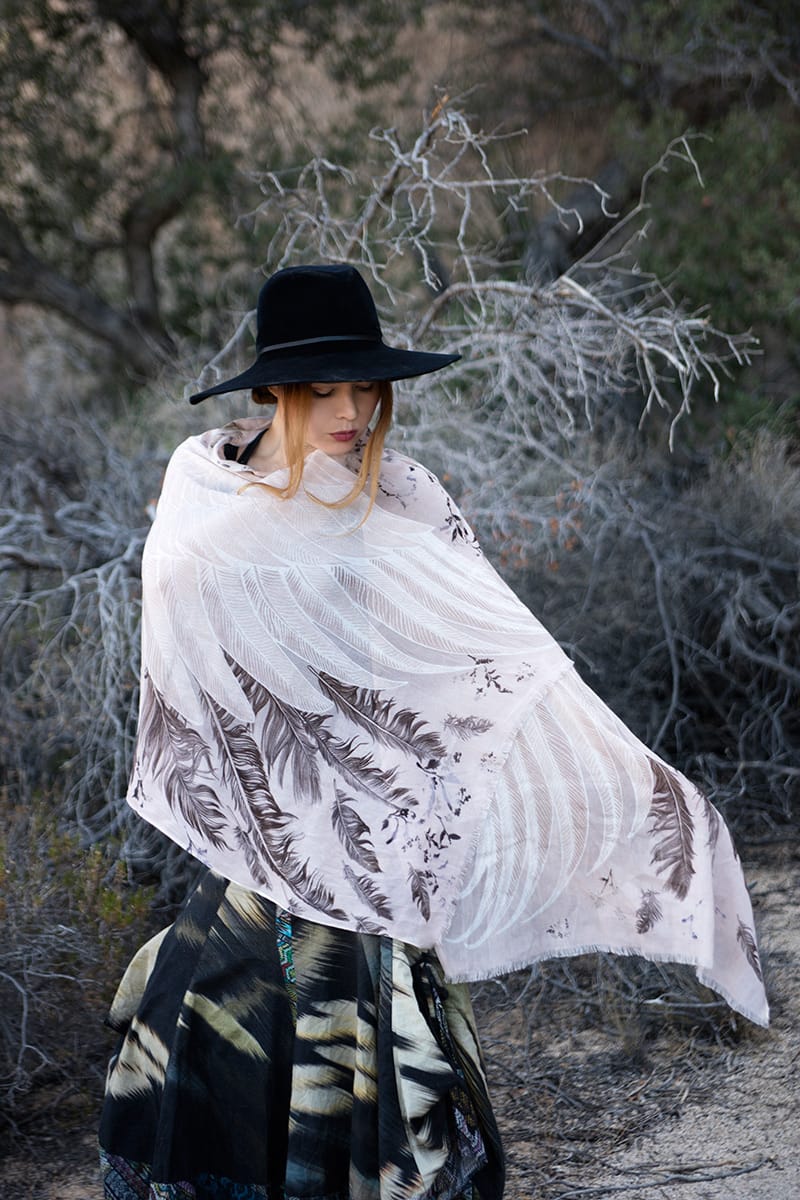 100% natural cotton – matte texture, light weight, breathes and drapes well.
Limited edition colours created by Shovava for Julian Lennon.. Truly versatile, it looks great paired with any outfit. Classic scarf or shawl, tube top, halter top, as a bandana, as a turban or even wrap skirt…this piece of Art will protect you from the Sun and will add that something special to any outfit. Please note: these scarves are fashion scarves, they are not meant to keep you warm in extreme cold.
When laid flat finished scarf measures Approximately: 200 cm by 70 ( 78″ X 27″)
Neat edges, two shortest edges have lash fray, gives the scarf a bohemian touch.
This unique bohemian wings and bird feathers shawl scarf features
Hand-painted and digitally printed, the scarf is a highly detailed representation of Nature, Freedom and Beauty. Just put it over your shoulders to look & feel divine. This scarf would make the most amazing gift for your loved ones!
Roza Khamitova is the creative force behind the extraordinary artistry of Shovava – a clothing line she launched four years ago from the majestic and magical Byron Bay in Australia. Originally a native of Kazakhstan, Roza's unrivaled designs and patterns draw inspiration from nature's beauty, but are also infused with her own sense, understanding and admiration of the infinite qualities of the human spirit. The uniqueness of her ideas are born of long solitary walks in the jungle, through bristling fields or along almost pin-drop quiet stretches of sand. Shovava's trademark winged scarfs reflect that soaring imagination and embody a sense of individuality, power, freedom, and adventure. They are an embrace of life.