Connect To Learn launched in Sauri, Kenya to address the challenges faced by young people, particularly girls, in transitioning to and completing secondary school. In Kenya, net enrollment of girls drops from 84% in primary schools to just 48% in secondary. Challenges to educational access and matriculation to secondary schools include instability due to drought, high levels of child labor in rural areas, as well as cultural traditions that favor boys. Connect To Learn has been working in Sauri since 2012 to help improve access to secondary education through girls' scholarships, and to improve the quality of education those girls and their peers receive through installation of technology resources in their schools, teacher training, and technical and vocational training activities.
To date, 86 girls have been enrolled on 4-year Connect To Learn scholarships in Sauri. Among them, 20 have been supported by The Cynthia Lennon Scholarship for Girls. The first 10 girls were enrolled in January 2016 – 5 each at Uranga Secondary School and Ulumbi Secondary School – and are now in their 3rd year. The next 10 girls were enrolled in January 2017 – 5 each at Uranga Secondary School and Ulumbi Secondary School – and are now in their 2nd year. The 10 girls enrolled at Uranga Secondary School are living in the girls' dormitory which was built with support from the The White Feather Foundation and the Gross Family Foundation in 2015.
This has been a great academic year so far, with numerous technical and vocational training activities being organized for the scholarship students, and with several Connect To Learn scholarship students taking on leadership roles at their schools. Highlights are discussed in more detail below.
VOCATIONAL TRAINING ACTIVITIES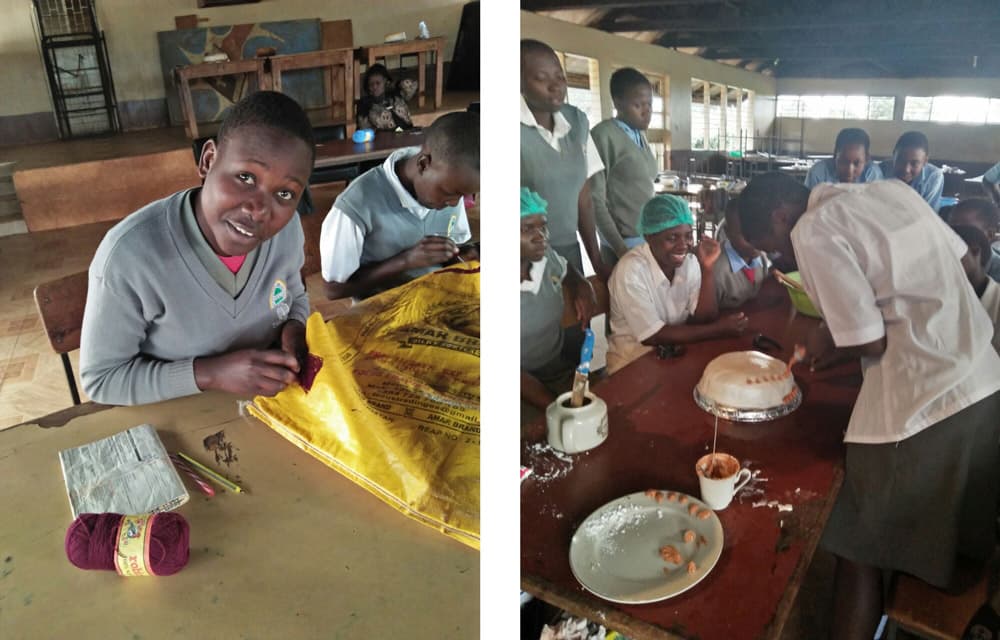 The benefits of a secondary education are undeniable, and in Sauri particularly, we have seen a sizable number of graduates go on to enroll in further studies at the university or training college level. For many of our graduates however, higher education may be out of the realm of affordability, so in order to support the next steps of our scholars, Connect To Learn supports technical and vocational training for the girls to learn income-generating skills that they can use as they transition from school to the real world.
So far in 2018, the girls have received training in event planning, tailoring, making home décor products, and baking. Each training gave the students hands-on experience using the tools of the respective trades.
EXCURSIONS
To help expose the scholarship students to different kinds of work opportunities, Connect To Learn supports the schools to organize excursions. In the most recent term, the girls went on a tour to Kisumu Airport and had a chance to speak with some of the airport staff.
ACADEMIC PERFORMANCE
Reports received on the girls performance this academic year show average to above average performance in most cases. Some of the students are struggling in certain subjects, particularly the sciences. In such cases, the students receive extra tutoring and support from their teachers, organized by the wonderful Connect To Learn teacher coordinators at each school – Makrine Akumu (Ulumbi) and Emily Baraza (Uranga).
NEXT STEPS
The students are now in their last term of the academic year, which ends in late November. They will the enroll in their next academic year in January 2019. For ten of the girls, this will be their fourth and final year, and for the other ten they will enter their third year. Connect To Learn will continue supporting excursion and vocational and life skills training activities.