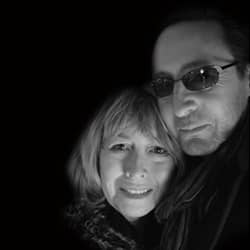 The Spirit of Lennon
This exhibition tells the emotional and intimate personal story of the life of the Lennon family; for the first time presented as an exclusive exhibition. It gives a unique and emotive insight into life with John Lennon that only Cynthia (John's first wife) and Julian (John's eldest son) can give.
Note: The Spirit of Lennon Exhibition is now closed.
The Story of White Feather
Throughout the exhibition Julian and Cynthia recollect their memories, experiences and emotions of their lives with John. The story is brought to you through personal interviews, family photos and the Lennons' unseen collection of memorabilia.
One thing Dad said to me should he pass away, if there was any way of letting me know he was going to be ok the message would come to me in the form of a white feather. Then something happened to me about ten years ago when I was on tour in Australia. I was presented with a white feather by an Aboriginal tribal elder, which definitely took my breath away. One thing for sure is that the white feather always represented peace to me.
Growing up as John Lennon's son has been a rocky path. He was a great talent, a remarkable man who stood for love and peace in the world, but to me he was the father I loved and longed for in his many absences. Mum was his first love, she was the one who held us together through it all.

I started collecting these personal pieces because I felt they belonged back in our family. This collection represents something of great importance to me as it is part of our history.
~ Julian
For ten years I shared my life with a man who became a legend in his lifetime. When the Beatles formed and went on to delight and astound the world, I was at John's side, sharing the highs and lows of his public and private lives. It was a time when he was at his creative best, a time when he loved his family and The Beatles.

John was an extraordinary man – infuriating, lovable, sometimes cruel, witty, talented and needy. I have always loved him and never stopped grieving for him. That's why I want to tell the story of the John I knew. He believed in the truth and would want nothing less.
~ Cynthia