The White Feather Foundation Charity Ball 2013
People came from all over the world to support The White Feather Foundation's endeavours in providing clean water for thousands of people this year.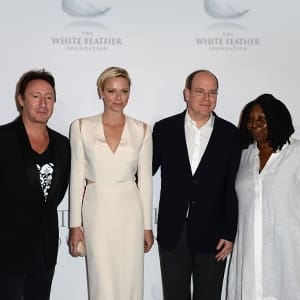 Our guests travelled from all corners of the globe for a prestigious evening attended by Their Serene Highnesses Prince Albert II and Princess Charlene of Monaco, among myriad other colourful and distinguished guests.
Whoopi Goldberg kindly flew in from the United States to host  the event and performed her role as master of ceremonies to perfection.
After making the evenings introductions, Whoopi gave a moving speech on how scarce water is for a large percentage of the world's population and how much we take our abundant water supply for granted. All we have to do is turn on the tap.
With her down to earth observation and sharp wit Whoopi rallied the audience whilst the auctioneer took bids on exclusive pieces of art kindly donated by distinguished artists such as Damien Hirst, Mark Evans, Guy Laliberte, Chris Moon and Simon Ma to name but a few.
Guests at the ball were entertained by two of the Cote D'Azur's best live music acts, David Zincke and Anthony Caligagan.
Our theatrical highlight was the macabre and thoroughly entertaining performance by the mysterious and hypnotic Simon Drake.
The essence of the evening was to raise money to help people desperately in need of clean water. 2013 is the 'United Nations International Year of Water' and that is exactly where the WFF is presently aiming its focus. We have already started a project in collaboration with 'Interactions and Solidarity' in Kenya to provide a water pump for a school of 650 children that will also serve a local community of 2,500 people.
Thank you once again to all involved for making the 2013 White Feather Foundation Ball a great success!