We just received this is short story from Studio Samuel Founder and Executive Director, Tamara Horton, on her visit in Ethiopia. The story offers insight into a 14 year old girl's current living conditions. It's one of the worst meetings Tamara has ever attended. It emphasises the need for the amazing life changing work that Studio Samuel does. And the huge need for more support.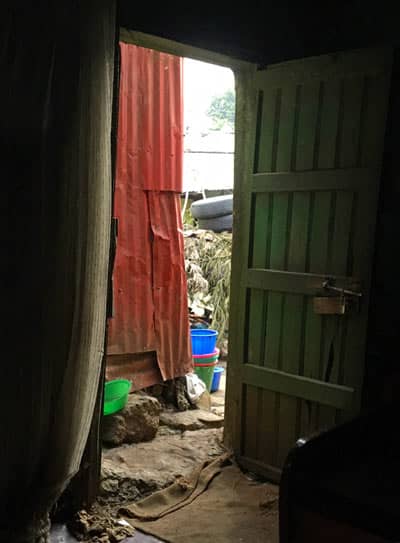 "This was my view while holding the hand of a 14 year-old girl as she shared her story through numb tears. For 3 years, she has lived alone in this dark, dilapidated room after losing both her parents to AIDS. The generosity of neighbors, who have little themselves, offering spare leftovers, has kept her fed.
There's a large hole in the ceiling and I see a small light bulb hanging from a loose wire. When I ask if she has electricity, her neighbor proudly says, 'Yes! After her water and electric were cut for nonpayment, we wired her home with a bulb so she may continue her homework.' However, I'm told the bulb has since blown and a new one is not in anyone's budget. Regarding water, 'No, we cannot turn her water on, so she goes without.'
She's HIV+ and has access to ARV treatments, but without proper nutrition her body can't handle the side effects of the medicine. So she chooses not to take them most of the time.
We discussed a preliminary plan with her neighbors so she may focus on school and her health.
As we left her home I looked around the neighborhood and couldn't help think how many children are living these unthinkable stories each day. And what does it take to change this, to break this cycle?"
– Tamara Horton, Studio Samuel Foundation.