Julian Lennon started The White Feather Foundation 12 years ago to give a voice and support to those who cannot be heard...
"I created the foundation to work with and support NGOs from around the world, who are already doing an incredible job helping others in need. Please help us help them, and let's try to support them as best as we can".
Here, we feature some of the NGOs for you to have a look at and see how you can help….
Solving the Plastic Pollution Crisis
"A massive thank you to the White Feather Foundation for helping us to stop plastic reaching our beautiful Ocean."
South America, Africa, Asia & Australia
Fighting for the Rights of Indigenous Tribes
"As the Amazon burns, stand with indigenous peoples. It's their home that's going up in flames 🔥. Join Survival International as they fight against Bolsonaro with their tribal partners to save their forest from destruction."
Educating & Empowering Marginalized Girls
"Amesegenallo (thank you) from Ethiopia! From our first 25 students to reaching over 2,550 girls today, you've made it all possible for Studio Samuel – and we're just getting started!!! We're so grateful."
Amazon Rainforest, South America
Protecting Indigenous Amazon Forests & Communities
"ACT sends our gratitude to The White Feather Foundation for their generous support in securing clean water for sacred sites and indigenous communities in Colombia! Highlight achievements include supplying an Inga ethno-education school with a clean running water system, supporting the ecological restoration of a Kogi coastal sacred site, and facilitating the installation of a potable water system therein."
Clean Water, Sanitation and Hygeine
"Proud to be supported by the White Feather Foundation. Your charity keeps make us do more, do better, and carry on our humanitarian actions around the world."
Education Scholarships for Girls in need
"White Feather is a champion of such great causes, and the girls they support through our initiative have had so many great education and skill building opportunities as a result. Thank you!"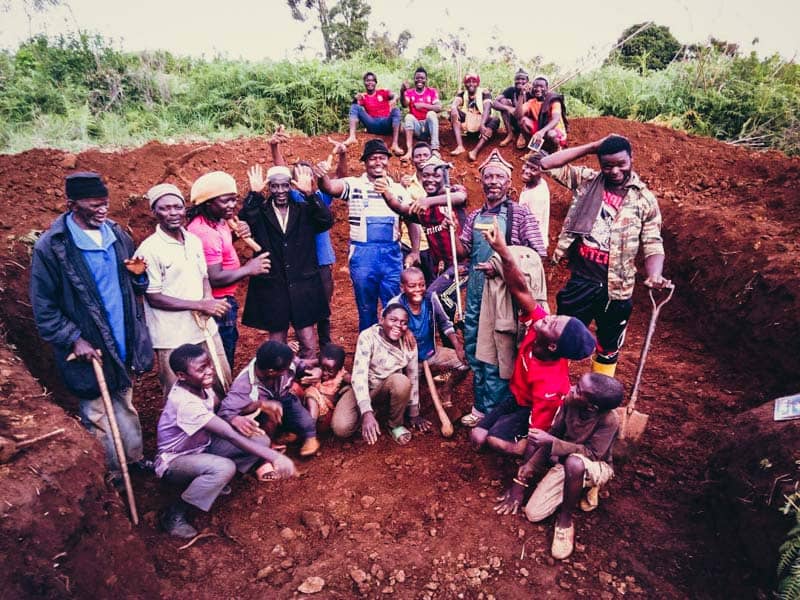 Clean Water and Sustainable Farming
"I take this opportunity to thank all humanitarians world wide who care about humanity. At the grassroots here in Cameroon, thousands of lives have been transformed thanks to the White Feather Foundation who have supported our organisation to provide portable water to two communities. Access to portable water is a universal human right. Above all, I am delighted to inform you my story has been illustrated in a children's book in USA Titled: I Am Farmer – Growing an environmental movement in Cameroon. Thanks to humanitarians like you who have indirectly empowered me to impact my community and the world at large. Let us continue to give back to make the world a better place." – Farmer Tantoh, Ashoka Fellow
With our support, Egoli Africa has successfully launched Village Ambulances in the Kamuli district, east Uganda. They have been able to purchase 3 ambulances, motorcycles and phones for the ambulance drivers.
Donating Art to Local Hospitals
"Via the WFF we are hopeful that the idea of Art@Hospital will carry far and that many more will follow suit in their hometowns and home countries. Art transpires without frontiers and may the story behind this initiative inspire many to join us painting with love for those who need it most."
Education and Health Facilities for Remote Villages
"Without desks, boards, and library shelves, there is no school. Thankfully, The White Feather Foundation heard about our build and have donated the furniture needed to bring the school to life. We are now able to open a living, working, beautiful school for these children. We monitor and record the ongoing progression in terms of both education and health for each child that enters the school."
Essential Supplies and Medicine for School Kids
"The generous support of Julian Lennon's White Feather Foundation has made possible the opportunities sorely lacking for these children who were destined to a life of poverty and destitution as previous generations have experienced. New shoes on the feet of children who wore nearly shredded, ill fitting rags have been the first purchase. The health, education and general welfare of these children will be enhanced many times over and even more children will benefit from the efforts of Changes for New Hope because of support from The White Feather Foundation."
Lupus Foundation of America
"We're grateful for your support of advancing research for childhood lupus, your commitment to raising awareness and your dedication to improving the quality of life for all impacted by lupus!"
Aid & Relief for Victims of Natural Disasters
"Thanks for all the support, and especially for helping to sustain life after the earthquakes in Nepal, Ecuador and Haiti."
Interactions and Solidarity
"The White Feather foundation has funded a drilling and construction of a borehole in the semiarid area of Loitokitok, thereby allowing the children of the primary public school of Ol Doinyo Oibor and the communities of the neighbourhood to access sufficient water of good quality."
Friends of Usambara, ForestNation
Reforesting Usambara Hills
Planting trees with our partners ForestNation to give back to Mother Earth and mitigate global warming while empowering local youth & communities.
Creative Visions Foundation
Creative Visions, a global non-profit and United Nations NGO, ignites change through impact storytelling. The organization builds powerful coalitions of organizations offering solutions for critical issues – with a focus on environmental and social justice.
One Little Finger Foundation
Promoting Ability in Disability
One Little Finger is a story of #AbilityinDisability where people with perceived incapabilities accomplish great feats through the power of music and unity. The award-winning feature has grown into a global movement for breaking the stigma of disability through real-life stories.
Elton John AIDS Foundation
EJAF has been at the forefront of the fight against HIV Aids. In 27 years of operation, the organization has supported 1483 HIV-related programs around the world – providing timely treatment to thousands of patients, making HIV tests accessible, and erasing the stigma around the disease.
A big thank you to all these organizations for being a part of our mission to #conservelife. Learn more about our impact and see how you can get involved with our initiatives.