2. You'll see a box like the one below. Click "Select "Nonprofit" or "Charity"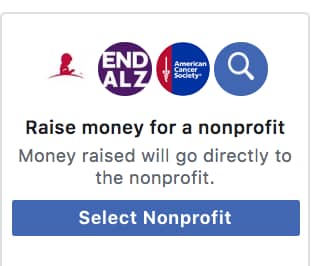 3. Type in "The White Feather Foundation" and you should see a screen come up that looks like this (a glitch is causing the wrong logo to display, but rest assured it is the correct organization):
4. Select "The White Feather Foundation," and you'll be taken to a screen to set your preferences for the fundraiser. You decide how much of a monetary goal you'd like to set and when you want the fundraiser to end on your page.
5. On the next screen you can enter a personal message for why you'd like to raise money for The White Feather Foundation, then follow the prompts to make your donate page go live.
6. Facebook and PayPal Giving take care of the rest! Once your fundraiser end date has arrived, The White Feather Foundation will receive any funds you've raised (even if you don't make your goal) and you will have helped to #conservelife.
Thanks to all who prepare a fundraiser on our behalf, whether it be in honor of a birthday, in memory of a loved one or just because.