TWFF: You are a former corporate fashion executive with a background in design and marketing. How did your journey lead you to become the founder of a jewellery business?
CL: I worked in concept design for 12 years before founding Love Is Project, for brands like Abercrombie & Fitch and American Eagle Outfitters. In 2012, I left corporate fashion with a mission of working with artisans around the world to create products and connect them to brands for market access. I connected artisans and brands in a consulting capacity for a few years before launching Love Is Project as a standalone brand in 2017.
With the success of our early corporate partnerships, I knew the Love Is Project could be a powerful stand-alone brand. By harnessing the meaning of LOVE, we could create economic opportunities for thousands and empower millions more around the world.
Leaving a stable corporate job was initially scary, and it has had its ups and downs over the years—but it has also enabled me to merge my passions for design and development together into a new category of fashion philanthropy. I've been able to take ownership and drive the vision of my brand forward, as opposed to trying to change an industry from within. In the past two years, I've learned more than I thought possible, and have become involved in every aspect of the business.
It hasn't been all roses and sunshine, but my background in fashion design and extensive travel (I've visited 104 countries!) prepared me for entrepreneurship. Travel has made me adaptable, curious, and resourceful, and enabled me to find inspiration anywhere.
My skills in photography and trend forecasting help me style photoshoots, and my experience in merchandising showrooms gives me an edge when creating visual displays at trade shows. As a hard-charging New Yorker for 18 years, I'm used to getting things done.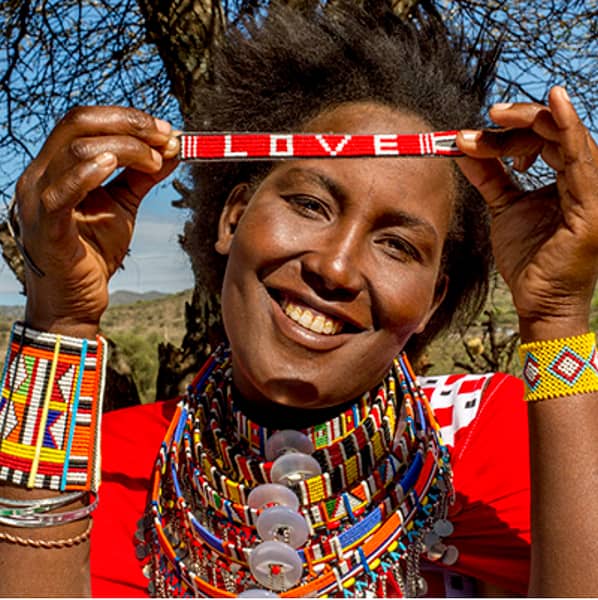 My "AHA!" moment came when visiting the Maasai mums in Ngong. I was inspired by the colors of their tribe, so I designed a simple LOVE bracelet with the equally simple goal of helping to create jobs for their community. With that bracelet in hand on a flight to Russia, I asked two strangers from Uzbekistan and Kyrgyzstan what love meant
and profiled them on Instagram
. What started as a personal travel project transformed into a viral social media campaign.
With the grassroots support of influencers spreading the word, it validated the concept and product-market fit and convinced me to make it a stand-alone brand.
Love Is Project is more than just jewelry. We create jobs for more than 2,100 talented female artisans in 10 countries, supporting families, their children's school fees, and investing monetary proceeds toward various LOVE-packed projects.
We give agency to our artisans to empower themselves. Also, Love Is Project donates a portion of net proceeds to non-profit organizations. All of our bracelets are handmade with LOVE and reflect the pride and heritage of the artisan maker and the artisan's home country.
TWFF:
Our Founder discovered your jewellery by watching an episode of Shark Tank. What was your experience on that show like? Did it help you shape the way you run your company?
CL:
Preparing for Shark Tank
during a pandemic took up three months of 2020. In a normal year, I travel a lot, (trade shows, artisan working trips) since the shut down, I had more time to focus on the business AND applying for Shark Tank. During our segment, Mark Cuban felt that we had it under control and didn't see how he could add value as we already had brand partnerships, press and unsolicited celebrity endorsements. We didn't get a deal, but it was all for the best as we want an investor who is aligned with our values and mission as a for-profit social enterprise. The Sharks are solely profit-driven. We believe in the triple bottom line, People, Planet and Profits. Since launching Jan 2017, we've doubled our sales year over year, including this year because of the
Shark Tank effect.
Cutting Out the Factory Footprint
TWFF: One of the greatest benefits of our partnership is that purchase of the jewelry helps support female artisans in underdeveloped areas. How did you connect with all of these amazing talents across the globe and what is the process like for empowering new artisans as the Love Is … Project movement grows? CL: I lived in Kenya and Indonesia so I had connections in both of those countries. I've met with artisan groups during my extensive travels. I also hear of projects through word of mouth, and friends of friends. We look at unique techniques and products being made to see if there are opportunities to evolve the design. It helps to work with an established group that has production, QC, sourcing and communications organized, as it makes it easier to manage and scale. Our Work From Home (WFH) social impact: The artisans we partner with all work from home. This helps to avoid a large factory footprint and cuts down on commuting time. For our artisans, they receive fair ethical wages for their region to be able to care for family and community. To them, every purchase means financial independence, water, and food security, educational opportunities, access to healthcare, situational relief with programs like those developed around Covid-19, and so much more. Our Supply chain is flexible and scalable, not confined by physical factory capacity. The work-from-home (WFH) model suits our artisans. They can care for their family and community and not waste time and resources commuting. Our diversified supply change mitigates the risks of concentrating production from one country. When the pandemic hit, launched our LOVE Grows program to provide our artisans and those in their communities with food independence. We've had groups also launch their own waste recycling companies as well!
TWFF + Love Is ... Project Collection
TWFF: Tell us about where the new TWFF collab feather necklace comes from.
CL: We decided to create a white feather inspired beaded necklace pendant with the artisans we work with in Colombia. Feathers are used culturally and ceremonially within the Indigenous Embera Chami tribe that makes and beads these creations.
TWFF: Where does the TWFF camel bone pendant come from?
CL: We believe in a 'no waste' philosophy, so each feather pendant is made from upcycled hand-carved camel bone and comes with a with suede cord. Made in Kibera, Kenya.
TWFF: What is the story behind the TWFF silver cuff?
CL: Balinese artisans are world renowned for their intricate craftsmanship. We created a sterling feather silver cuff as an elegant symbol and a reminder to preserve Indigenous design.
TWFF: How can our supporters stay in the loop about new Love Is … Project updates and announcements? 
CL: We're really excited to collaborate with The White Feather Foundation!
Please check out our collections at www.loveisproject.com 
Follow us:
Instagram: @loveisproject
Facebook:  https://www.facebook.com/loveisproject.co
Twitter: @L0veisproject
5% of the sale proceeds of your Love Is … Project + TWFF purchases benefit The White Feather Foundation.