As our charity expands merchandise offerings that align with our mission, we'll share insight into how these products came to life with those who created them. 
TWFF: As a mindset coach for more than a decade, how did you decide to expand your business to sell products?
RD: Before I was making candles and oils and other products, my zen was baking. It got to the point where there was so much stuff, I was giving it to my ex-husband, my kids—every day dozens of muffins and doughnuts. I thought about opening a bakery, but then I started integrating more metaphysical elements into my coaching business, so opening a shop to create products to support that was just a natural extension.
In the beginning it was just some 8 oz candles. I wanted to see if people enjoyed them and if they would be as intentional and powerful as I wanted them to be. They sold so fast and people raved so much that the line kept expanding. Then we went into oils, herbal remedies and bath salts and it just exploded. Never in my life did I think we'd be having this conversation!
TWFF: How do you source your ingredients?
RD: I have two organic companies that I order herbs from if I don't already have them on my property. I live on a farm so some of it is readily available in nature. My cousin Diana also owns Mountain Hollow Farms in Vermont, so I get some items from her as well.
Before I began this venture, I was a bit of a brown thumb; great with animals, but not so much with plants. When I decided to start doing this work, I made a decision to choose to believe I was good with plants and now my seeds are growing—I have sage, St. John's Wort, ivy and I'm so excited! I also discovered when I bought a plant and chose a space to grow it where I thought it would do best, that same plant was already growing there. But I didn't put it there. Plants are like that … when you need them they just show up. That one is called mullein and I use it in a lot of my candles.
The feathers come directly from ducks and geese that roam the property—they molt them everywhere.
The crystals come from mines that I've verified as ethical sources that don't have child labour practices or harm the land. I also use organic cotton wicks and 100% soy wax for the candles. Everything is prepared in small batches and hand-poured.
I encourage people to recycle the glass jars. You can take them to the beach and fill them with sand and shells; use them to hold loose crystals, make a bud vase—lots of options to give them a long life. I also recycle packaging to ship the items whenever possible.
TWFF: What was it about The White Feather Foundation that made you want to partner with us?
RD: You have the same ideals that my company has; there is no place in our philosophies where we are far apart. Witchy Women is a socially conscious and environmentally responsible company. The idea of being able to partner with your charity, which serves the projects we want to support, well, it was a perfect fit.
TWFF: Tell us more about your work as a coach and your process to help people heal.
RD: As a mindset coach, I help women to remember who they were before they had all these experiences and circumstances in life that taught them to be someone else. I'm not a therapist, but I've spent thousands of hours studying how the mind works and I'm certified in a million modalities for success coaching, laser coaching, mindset coaching, hypnotherapy and more.
I also have horses on my farm, so I often use horse medicine with my clients. The horses are beautiful mirrors for us—they always reflect back the emotions or thoughts we're hiding from ourselves.
Horses are empaths. They read energy because they need to in order to survive. They're always scanning vibes and their environment simply to protect themselves. Bring a human out there who is nervous or sad or full of an emotion she may not be aware of and the horses will show you, either with body language or behavior. Working with horses can be an incredibly powerful way to shift perspectives and ways of being. I'm not doing it justice here.
TWFF: Do you think the pandemic helped people go deeper into themselves during lockdown?
RD: I think it reminded people of connection. I had a lot of conversations with people who were grateful to spend more time with family and spend more time in nature. More people began gardening, going on nature walks, talking to each other.
People started looking to each other, which is key. Because if you're not healing yourself how can you heal or help anyone else?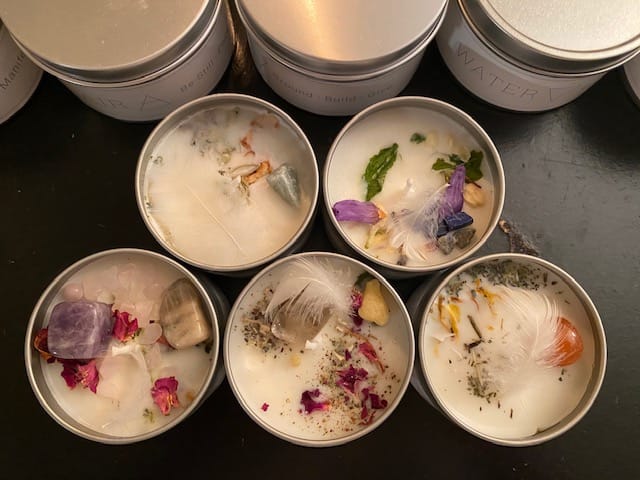 Infused with the Earth's Energy
TWFF: What was your inspiration for creating the Elements line of candles for The White Feather Foundation?
RD: It was the easiest line I've ever created. This charity is For the Conservation of Life. Immediately, my brain said, 'There are four elements to life: Air, Fire, Water, Earth,' and then there's a fifth for Spirit to connect with a higher consciousness. That's where the Dream candle came in.
The difficult part was deciding what to include in each of them because there are so many herbs and oils and crystals to choose from. I was super mindful about what I chose for each of them. If you read the labels closely, you'll see why I chose what I did.
TWFF: What is the actual candle-making process like?
RD: These are hand poured, so usually when you're making candles you heat the wax and when it hits a certain temperature, you add your fragrance and pour your candles. What I do is melt my wax, pour my candles and then I take essential oils and drop by drop at the right temperature to determine the concoction. For each candle I make, I also infuse a 528hz healing frequency with a tuning fork.
The herbs are added by hand as well, and the crystals are cleansed on selenite and charged by the moon. They're also hand-chosen and embedded. So it's a very different process from something you'd buy in a store. I want to be mindful because my energy is going into these.
TWFF: Talk a little bit about that, as the term "witch" can often be misunderstood.
RD: I know a lot of people think anything to do with the metaphysical is weird or dangerous or just "woo" and has no substance. For a long time, I felt the same way. I've been a secret witch since high school. Then I studied and read and learned more, and what I have become is commonly referred to as an Earth Witch. I'm not a Wiccan or Pagan. I'm simply a steward of the land, as all witches are.
It's a witch's job to connect with, protect and support the environment. Plants, animals, nature are here in service to people and vice-versa. Anything I create combines the earth's energy and its organic ingredients to help people. We're not talking about hexes or black magic—we're talking about healing.
TWFF: In addition to the candles, there's also a Ceremonial Smudge Kit in the selection. Can you tell us more about its purpose?
RD: In every culture throughout the centuries, there has been some sort of ceremony or plant burning involved to cleanse a person's energy or spirit. Depending on the century, the ceremony changes. In this generation, people use white sage, rosemary or black sage. We only buy sage that is farm-raised, so we're not taking it from the wild. Same with the Abalone shells. We don't want to harm the oceans or mollusks, so we get them from a farm. People that use these kits simply want the ceremony of releasing negative energy. They like the purification process. They respect that it is a sacred process and it works. It's worth mentioning that Celtic druids and European witches used sage in the same way we do now.
TWFF: I think considering the year we all just had, people are welcoming the opportunity for self-growth and self-care like never before.
RD: I believe the planet itself is shifting consciousness. Things that used to matter don't matter anymore. It's no longer "How do we make a buck?" It's "How do we get healthier and help one another and serve the planet and its people?"
The new TWFF-Witchy Women Magic Shoppe®️ candle collection is available now. Browse and shop here.
Photo courtesy of Rebecca T. Dickson by Bethany O Photography.