Tassoula Kokkoris recently spoke with General Public Founder Portia de Rossi about the origin of her brand, the accessibility of fine art and why the partnership with Julian Lennon was such a natural fit.
TK: You left acting to bring the art publishing company General Public into the world in 2018. What inspired you to create the brand?
PDR: I've always loved art. I've been collecting for about 20 years. I actually bought a Rita Ackermann drawing with my first paycheck from Ally McBeal. But I found the art world to be very exclusionary. That feeling of intimidation from art galleries never got better, even when I had a bit more to spend on particular works.
I believe an artist makes art because they want to really connect with people and share their perspective of life. I thought: Art isn't truly accessible—either to purchase or to view. Why am I the only person that gets to see this beautiful painting? For example, what if there was only one copy of a novel in existence—like Mark Twain—that one person got to read? It sounds ridiculous. That's really how I feel about paintings. 
Even though some original works of art are hung in public spaces like museums, can you imagine only getting to hear a song if you went to a concert hall and listened to it being played while you were there … and that's it?! 
I also could never understand why technology has helped so many art forms, but not painting. If you can reproduce a table using 3D technology perfectly, why can't you reproduce a painting?
So these were my questions going in and I conducted research to figure out what existing technology we could use, what we would have to modify to reproduce a painting with all the viscosity, all of the texture, the color—everything you can view in the original painting.  
TK: As a writer, your book analogy really spoke to me. I can't imagine pouring my heart into a writing only to have an audience of one read that work. 
PDR: Exactly. The same for making a film for one person or even designing a couture gown for one person. I don't understand why the scarcity model is the only model in the art world. It feels really archaic to me, especially now that we have the technology to reproduce originals to perfection.
TK: You developed the Synograph™ technology, which is a special printing process that produces these amazing art replicas—tell us about how the idea became a reality.
PDR: Well, I can't claim to have invented the technology, but I can claim to have made it into a business. In the Netherlands they had taken works in museums, like van Gogh's art, and used the same scanners and printers that we're using, but it was a very slow process. For example, it could take two days to reproduce a 16×20 painting and then several hours to print it. So we had to figure out how to make it scalable and still get the quality they were delivering. We worked on the software to manipulate both the scanner and the printer to do something that they don't usually do. There were already lithographs and digital prints, but there wasn't a word that conveyed texture or really suggested a re-creation of an original, so that's how we arrived at the Synograph. It's essentially a printed painting.
For photography it's a different process in that we're transferring from digital works and selecting the paper that best represents the art. For example, we are printing everything on cold press archival paper for Julian's works because—unlike the name—there's a warmth to it. There's something organic about it that feels a little bit more inviting.
TK: What is your art curation process like?
PDR: We have an open submission platform, which is especially great for folks who don't live within the United States. We get great submissions from Asia, Europe, Australia—artists who wouldn't normally have an avenue for showing their work in the United States. 
We also have art advisors on both coasts who are constantly looking for emerging talent or mid-career artists. It takes a fairly self-confident artist to step outside the gallery system. They're so indoctrinated into this idea of what makes art valuable and where it should live or the price a gallery puts on a work. So we find these artists through both channels.
TK: General Public began by featuring art from original paintings and drawings, and recently introduced GP Photography. What was the creative path to that expansion into the photography medium?
PDR: The hilarious thing is that initially, I didn't really respond to photography—I didn't understand it. I thought it was too staged or self-aware or too haphazard, so I didn't see the artistry in it and I really tried to understand it. That's part of the reason I wanted to tackle it, I wanted to learn and be intrigued by it. And I cannot tell you how much I've learned this past year, being focused on finding great photographers and what makes a great or iconic image. What resonates and stirs emotion in the viewer. I'm so grateful to Julian for taking a chance on me—he's had a major impact on me and really taught me a lot about photography.
TK: How did you first discover Julian's photography?
PDR: Wendy [Posner, of Posner Fine Art] introduced Julian's photography to my team, and his body of work was overwhelming when I first saw it. Just being able to capture people the way he does—the talent is obvious. I was also looking for someone who could shoot beautiful landscapes. 
If I were to think about his work, more than any other photographer I've come across, it really is about exploration. I would call him an explorer. There's an intrigue to it. You can see that the person behind the lens is genuinely curious about what he sees, and that is rare. There's no ego in it with Julian. I really feel his energy through his work—he has a way of connecting with people, almost like he's saying, "Does anybody else feel this way?" and then as a result, neither person will feel so isolated.
I deal with a lot of artists and sometimes I can blatantly see an agenda. With some of the greatest photographers, you'll see a piece and then go … "Oh, there she is again!" That's not necessarily a bad thing, but with Julian, he turns something into art through his vision. There's a smallness to him behind it, which makes the picture the important thing. 
His composition is so classical. That was the first thing that really blew me away. He would seemingly take pictures through exploration, but he would frame them in a way that gave them the most perfect composition. And the difference between him and a photojournalist is that you can see that he goes out into the world every day with the goal to create art and make something beautiful, rather than just document it.
TK: One hundred percent—I never thought about his approach that way, but it's so true.
PDR: How he views the world in such a unique way is so captivating to me. He's also well traveled, and you can see that he's respectful of other cultures and has a desire to learn about them. He sees the beauty in difference.
TK: I agree—he also has a natural gift for being a "fly on the wall" and maintaining a respectful distance when he's photographing people.
PDR: He keeps his subjects from being self conscious, and that's so hard to do. That's one of the things that puts me off of portraiture. I think, "Who are you really, when there isn't a camera shoved in your face?" A good example of when it's done right, is Julian's photo, "Rico Suave." He just stumbled upon a man draped on his car in that way! That's the kind of thing that's so exceptional about his work—you would swear that he manipulated that image to get it absolutely perfect the way we see it, but the fact that it was spontaneous—that to me is what makes a photograph iconic. That's an iconic image.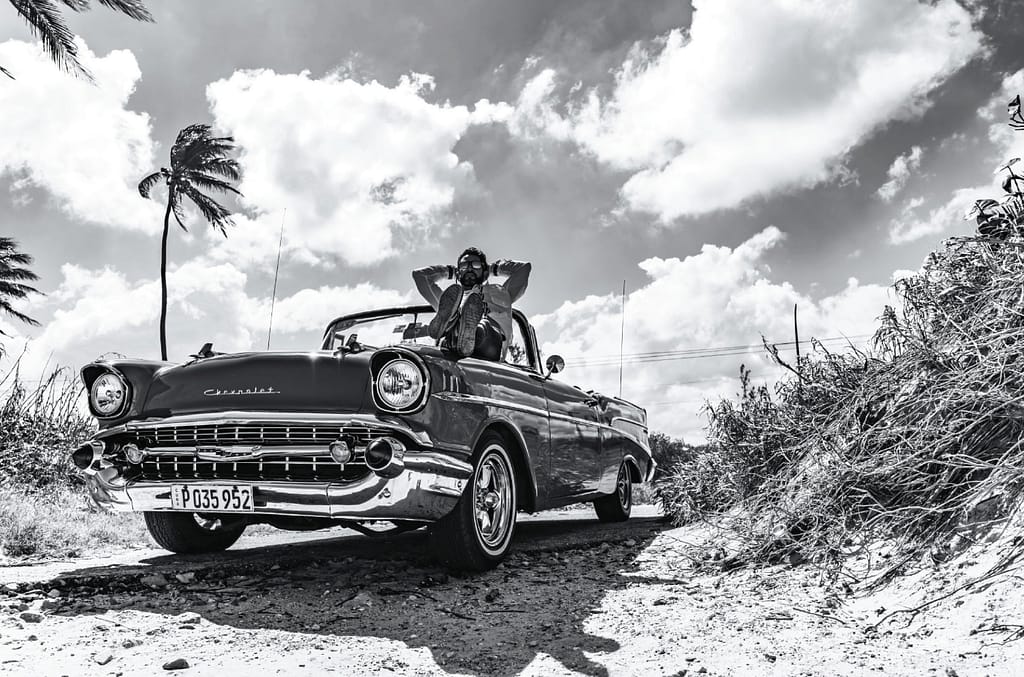 TK: What's next for GP? Are you expanding to include more mediums?
PDR: Yes, we're actually working on relief sculpture now. After that, we're working with 3D technology to recreate sculpture. We're also looking at digital art, works on paper and ink wash. Our ultimate goal as a company would be that when people need art, I would like General Public to be top of mind. I would like them to find something beautiful whether it be photography, sculpture, paintings or works on paper.
TK: It was reported that during the pandemic, there was a surge in home redecorating/people beautifying their spaces for comfort. In a larger sense, what role do you think art plays in the improvement of mental health?
PDR: Art is a way for people to think about what they like and what they value. It's a way of self exploration to surround yourself with things that are important to you whether it be imagery or color. Art allows you to see yourself reflected in your environment and recognize the things that are important to you. I know that Julian's work is going to resonate with so many people and be so uplifting in that respect. There's an escapism in his work—it takes you somewhere.
TK: You and Julian have both been active in multiple creative disciplines throughout your careers, and are dedicated to philanthropic causes—do these parallels make for a natural synergy in this artistic partnership?
PDR: Absolutely, because it's really nice to connect with people who like to express themselves in different artistic mediums, but to also be able to connect with someone who shares similar interests like philanthropy. It kind of goes hand-in-hand, just the thought of that outreach. How can I share what I've learned? To think about you and your needs and make the world a little bit happier …
A portion of the sale proceeds from Julian's photography will benefit The White Feather Foundation.View and shop his collection exclusively at rh.com/general-public-art.
Follow General Public on Instagram and Pinterest.
Follow Portia de Rossi on Instagram.
Follow Julian Lennon on Instagram.
Top photo courtesy of Portia de Rossi.
"Rico Suave" (c) Julian Lennon.