Revitalizing the "Great Mother":
Reclamation of the Jaba Tañiwashkaka Kogi Sacred Site
A Report to The White Feather Foundation from the Amazon Conservation Team April 2015
In April 2014, with its generous gift of $10,000, The White Feather Foundation joined the dedicated group of ACT supporters who answered an urgent call-to-action to save an essential area of the Jaba Tañiwashkaka Kogi sacred site. The contribution helped to facilitate the purchase and titling of Las Delicias, a 22.55 hectare (ha) property at the mouth of the Jerez River in the municipality of Dibulla, thereby preventing its purchase by developers and transformation into a resort and marina. With the purchase of Las Delicias, Jaba Tañiwashkaka will now extend along the bank of the river, providing increased protection to its estuarine habitats. Jaba Tañiwashkaka's wetlands harbor nesting grounds for flamingos and crocodiles, and play an extremely important role in maintaining healthy fish populations and offshore coral reefs.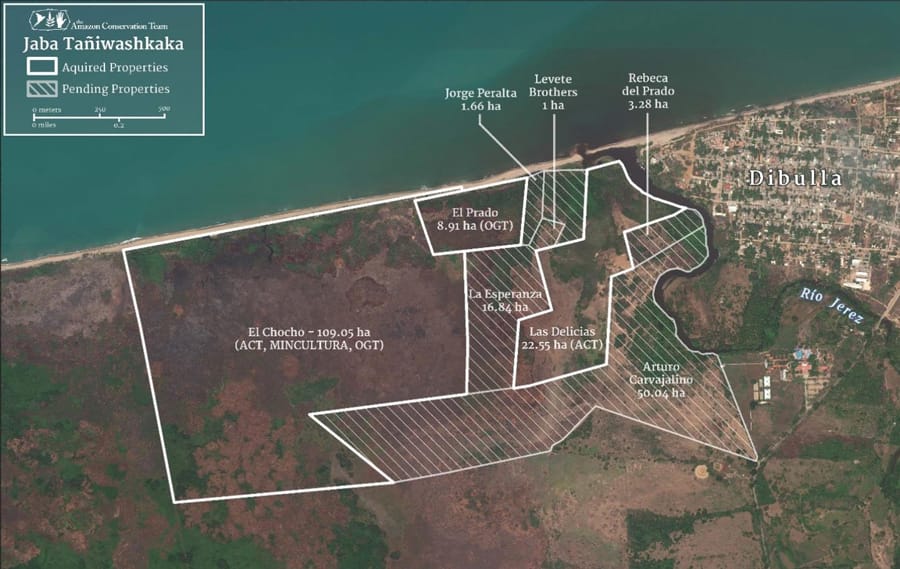 Since the Kogi regained ownership of the first Jaba Tañiwashkaka property, the sacred site has transformed. Prior to its acquisition, the land was degraded from cattle grazing and burned from a fire that had spread from a neighbor's property. Now under traditional management, the land is revitalizing with a resurgence of vegetation and wildlife (see pictures below).
With the legal consolidation and traditional management of Jaba Tañiwashkaka well underway, the next step in strengthening the sacred site is building a water supply system that would allow for the continuous residence of Kogi families in their reclaimed territory and the establishment of small-scale subsistence agriculture (3 ha) to sustain the families and authorities who live at or visit the site. This water system is being designed to be low-maintenance and ecologically responsible. Currently, any water supplied at the site of the Kogi's temples must be carried in buckets from the Jerez River (about 1 km distant) and is not suitable for human consumption. With access to water for crop irrigation and potable water for consumption, the temple site will be able to truly fulfill its role as a gathering site for the Kogi's traditional practices (e.g. ritual offerings, internal meetings, and exchange gatherings), which strengthen their culture and advance the conservation and restoration of nature.
ACT is immensely grateful The White Feather Foundation for helping to make all of this possible. We greatly appreciate your continued partnership!
It was the intent of this document to encapsulate how your support has fostered constructive change benefitting these communities. If you have any questions or would like more detail on a project component, please be in touch with Jessica Hardy, Strategic Planning and Evaluation Assistant ([email protected]; or 703-522-4684). We take pride in turning contributions into direct, tangible conservation outcomes. Thank you for your support!