Artist Statement
"Pearl is an 11in by 14in coloured pencil and watercolour drawing. In this piece, I wanted to highlight the delicate, yet strong nature of women (more specifically women of colour). I understand the phrase "Conserve Life" as a testament to resistance in the face of adversity or compassion to others in need; for this piece, I chose to focus on the former. Black women and other women of colour around the world face a toxic combination of racism and sexism so I sought to show the beauty in their strength and continued growth(as shown through the greenery) in the face of adversity."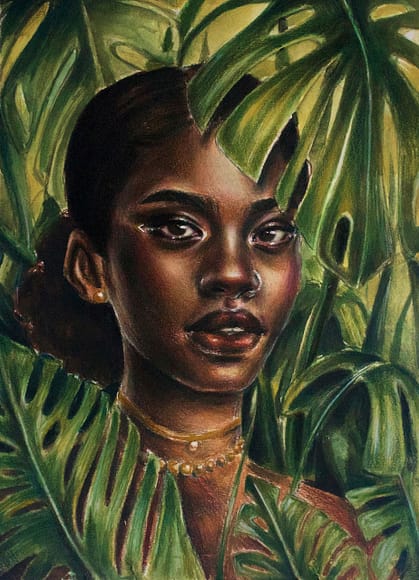 Marion is currently a senior in high school in the state of Virginia. She hasn't made a final decision on which college to attend next year, but she's been accepted to both Columbia University and Princeton University. She'll use her artistic vision to study architecture with a focus in urbanism. 
Her dream is to become a licensed architect or urban designer who specializes in Design Justice, a design style that is dedicated to making the world more accessible to marginalized communities.
When asked who inspires her artistically, she responded, "My artistic hero would probably be Neva Hosking or Victoria Vincent. Though these two artists are very different I think they use their work to represent two different sides of the world: beauty and chaos."
Her favourite medium to work in is oil paints, and in her spare time she enjoys film photography and development, embroidery and playing the guitar.
Artist Statement
"When I thought of the phrase "conserve life", I immediately thought of my mom, and how much she gave up to raise me and my siblings. I thought about how no matter how much she had going on, it always seemed like she had time for me. Parenthood is conserving life; but also nurturing it and helping it thrive.

This is a digital piece that shows a quiet moment between a mother and her child. It shows the healing of those simple, seemingly mundane gestures. They all contribute to supporting a life. The embrace itself only lasts a couple of seconds; it's the meaning behind it that makes it so monumentally important."
Tota is currently a sophomore in high school in South Carolina. Though she hasn't decided where to pursue her higher education, she plans to major in Illustration. Her dream is to work in Illustration either in storyboarding, concept art or a related area.
When asked where she gets her artistic inspiration, she responded, "I've always been inspired by animation and storytelling through art. Hayao Miyazaki and Ale Hirsch's art really inspired me to start drawing."
Her favourite medium to create in is digital, and in her spare time, Tota enjoys cooking, baking, thrift-store shopping, makeup and going on walks.
The White Feather Foundation wishes Marion and Tota the best as they continue their education and thanks all of the students who submitted entries for consideration.
The Cynthia Lennon Scholarship for Girls is an ongoing campaign. If you're interested in supporting the education of more students like Marion and Tota, please visit this page.