After receiving a record number of applications for this year's scholarships, the funding was split between the top two chosen educational institutions.
Based in Runcorn, Cheshire, United Kingdom, Ella Together performing arts school specialises in training for learning disabled performers and their non-disabled peers to emphasise equality and inclusion.
The two students who will receive the scholarships (pictured below) are Elise and Darcy Hampson.
Elise began training at Ella at age 3, and has performed in many productions. She notably portrayed Jemina in Chitty Chitty Bang Bang at The Liverpool Empire and was also chosen to sing a solo for HRH Princess Royal at age 5.
She sent her gratitude to Julian and the TWFF staff: "The Cynthia Lennon Scholarship for Girls means so much to me. I am 12 years old and know I have been given an opportunity that so many other girls of my age would love to have. I am so lucky … Thank you for the amazing opportunity, trust and belief you have put in me. I promise I will do my very best".
Darcey began her training at age 2, thriving in some of the most iconic roles in children's theatre, including Dorothy from The Wizard of Oz and Wednesday in The Addams Family. She has also performed with The British Youth Theatre for the past three consecutive years.
She sent a note of thanks to Julian and the TWFF staff: "My whole life is dedicated to performing and to have that magic feeling I get every time I stand on a stage is just amazing, The help from the Cynthia Lennon Scholarship for Girls will help make it easier and move me one step closer towards my dream. I am so lucky thank you for this amazing opportunity".
The scholarships will enable both girls to focus solely on developing their skills and talents, plus help others along in their journeys as well.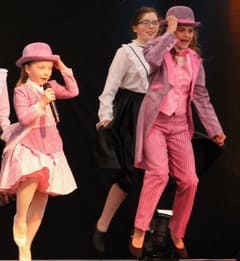 GLOW Academy is made up of female students spanning from grades six to twelve. These young girls come from diverse backgrounds, facing various challenges that include anxiety, depression, and, in some cases, even thoughts of self-harm. Their struggles are not limited by grade level; it's a collective experience that transcends boundaries. The scholarships awarded will be used to provide vital mental health services, such as on-site counseling and trauma treatment, offering a lifeline to those in need.
One of their essential resources is The Calming Room (pictured below), a sanctuary where students can regain their composure, learn to manage their emotions and develop self-regulation skills. This space is equipped with sensory lighting, furniture, and tools to assist students in finding the techniques that work best for them. With the support of this scholarship, we'll not only maintain but enhance this calming room, ensuring that it remains a haven for emotional recovery and growth.
Janet Tucker, MSW, School Social Worker at GLOW Academy sent her response to learning of the award: "The CDC's data indicates a concerning 20% increase in feelings of sadness and anxiety among teen girls between 2017 and 2021. As an all-girls school, receiving this funding is a pivotal opportunity for us. It enables us to expand our services, enhance available resources, and introduce school-based activities that can make a profound difference in the lives of our students. This scholarship represents a lifeline, addressing the critical mental health needs of our girls and ensuring they receive the support and resources necessary for them to thrive in a challenging world". 
We extend our deepest gratitude to everyone who contributed to The Cynthia Lennon Scholarship for Girls and made this possible, with a special thanks to members of The Muse, who donate to the campaign each month.
Photos courtesy of Ella Together and GLOW Academy.
Watch this space for updates these scholarship recipients and for those of years' past.
To donate to the 2024 Cynthia Lennon Scholarship for Girls, or become a monthly donor of The Muse, start here.