Sacred Sites Saved, Indigenous Cultures Preserved in Colombia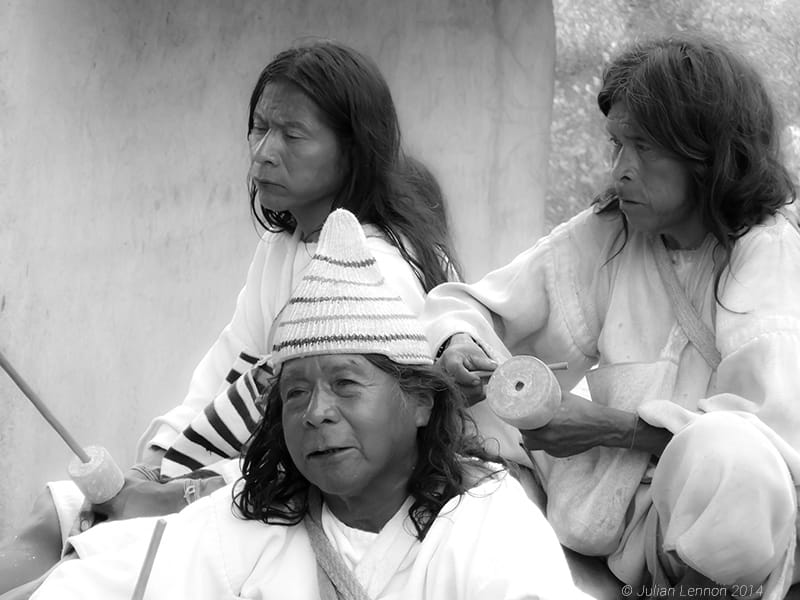 Indigenous tribes in Colombia were at risk of losing sacred pilgrimage sites, were fighting river pollution that endangered their food supply and feared losing basic cultural knowledge of medicines, healing practices, agriculture, music and oral history.
In partnership with the
Amazon Conservation Team
, a series of initiatives took shape over the course of five years to help address each issue the Indigenous people faced.
2009—Funding from The White Feather Foundation supported the development of three meetings of male and female indigenous healers and their apprentices of the Colombian Amazon, two in the Andean foothills (Caquetá and Putumayo departments) and one in the Amazon plains region (Amazonas department). More than 170 elders of 13 tribes came together to share thoughts, experiences and ideas in order to recover and strengthen their traditional medicinal systems.
2010—With the help of funding from The White Feather Foundation, the Amazon Conservation Team purchased an outboard motor for the canoes of the un-acculturated Waurá people of Brazil's Xingu Indigenous Reserve so that they could clean their river of debris carried from upriver and transport this refuse to neighbouring towns with proper disposal sites. For the Waurá, a clean river means an increased likelihood of healthy fish stocks and by extension, healthy children.
2012—The White Feather Foundation provided support to the Amazon Conservation Team so that the Yukuna tribe, which works in partnership with three smaller groups, the Matapis, Tanimucas, and Letuamas, could geo-reference both the boundaries and unexplored areas of their ancestral rainforest; the pristine Mirití River region within the Colombian Amazon (Nonuya de Villazul Indigenous Reserve, Puerto Santander, Amazonas). Additionally, the project supported a research process leading to the completion of manuals of local medicinal plants and their use, describing the use of more than 100 plants to treat more than 150 diseases.
2013—The White Feather Foundation provided funding to help Kamainja Panashekung, a senior shaman of the Waiwai tribe who resides on the Brazil-Suriname border in the northeast Amazon, construct an ethno-education school where he has begun holding regular classes for students on medicinal plants and traditional medicine. He has also coordinated with other village elders to provide students with instruction in traditional agriculture, oral history, music, and handicrafts.
2014—In March, Julian traveled to the Kogi indigenous people's territory on the north coast of Colombia. The experience inspired The White Feather Foundation to contribute funds toward the Kogi's endeavour for land acquisition.
The ongoing project, sponsored by The White Feather Foundation and the Amazon Conservation Team's board members, empowered the Kogi to reclaim 54 pilgrimage sites along the Línea Negra. The "black line" symbolically marks Kogi territory and runs along the Caribbean Sea and through the Sierra Nevada de Santa Marta mountain range. These sites are threatened by poorly‐planned development schemes and illicit crop cultivation.
"We are delighted to have the partnership of The White Feather Foundation in our work to conserve some of the world's great remaining natural and cultural treasures and to build the collective strength of traditional societies with much to teach the world outside their forests."
—Mark Plotkin, Ph.D., Amazon Conservation Team President
Photos © Julian Lennon, 2014