The two-year Training for Tomorrow™ program at
Studio Samuel
has helped girls in Addis Ababa, Ethiopia develop life skills to end the cycle of poverty since 2015. One thing that evolved out of that program, sparked by the needs of their students, is the HIV AIDS Prevention Course.
In the class, a licensed healthcare worker leads young girls aged 9 – 18 through the myths surrounding AIDS and breaks down the 'cures', the stigma of being tested and how science proves the disease is manageable. Girls will also learn how to protect themselves from contracting the virus in the future.
Key to course completion, and receiving their certificate, is having their caregiver's consent to receive an HIV test. Results are given on the same day, with licensed counselors and medical professionals on hand to address mental stress and map out a medical plan, respectively, for any girls testing positive. This additional professional support ensures that no girl goes home that day alone or without a plan for how to proceed, regardless of the test outcome.
The White Feather Foundation Campaign
The HIV AIDS Prevention Course became inoperative in 2019 due to lack of resources, so in October, we began a
campaign
to fund the next class. Thanks to the generosity of our supporters, the course will resume this spring. We caught up with Executive Director/Founder Tamara Horton to learn more about the students and the impact this funding will have on their lives.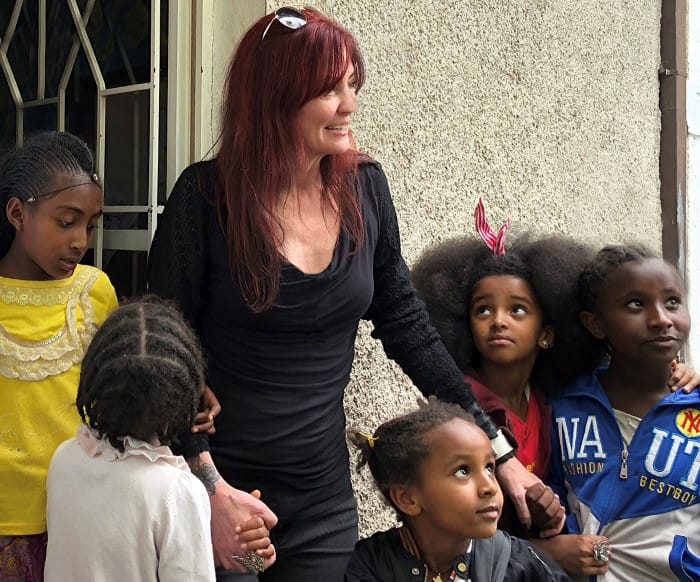 When asked about the girls in the program, Horton noted they're all living in poverty and have been affected in some way by AIDS, whether it be losing a family member or knowing/living with someone currently infected. "We've seen girls as young as 10 become the primary caretakers in the home and work to put food on the table when a parent becomes ill." she said.
Through methods such as drama therapy, re-enactments, demonstrations and visual presentations, the stigmas of discussing AIDS are removed and replaced with thoughtful dialog that leads to real progress. Each graduate of the first class of 25 girls tested negative for HIV at the conclusion of the course. "They were ecstatic when they learned the results, as most were convinced they would test positive." said Horton. "It truly was a new lease on life and those who were once shy now felt comfortable openly discussing protection—there was an immediate change in their thought process. This has a positive ripple effect because they take this knowledge back to their households to siblings and other family members."
An orphaned student lived in a plastic container home with her siblings. When Horton visited the training center during one of her program site visits, she noticed the student's sister began turning up each time she was there to clean.
"I learned that this sibling was employed by a hotel as a housekeeper primarily so she could get the leftover food from their restaurant. The salary only paid her enough to get transportation to and from the job. She was cleaning when I was there to show me she was skilled in hopes of getting more work—and she was such a hard worker. I hired her on the spot to work for us part-time, allowing her the flexibility to clean whenever she was able so that she could simultaneously work the other job and continue getting meals. Her sister, our student, is now in school to become an accountant and is the first in her family to be educated past tenth grade."
Empowerment to Break the Poverty Cycle
The program is designed to set students up for success. There are no handouts; only tools that promote safe learning and the development of employable skills through a 'Teach a Woman to Fish' model. Studio Samuel's vision is a world where girls everywhere, no matter where they're born know they have the same opportunities for a good life. Their Training for Tomorrow graduates continue to prove this is possible. In 2017, they created a short film called Her Path, narrated by Julian Lennon and Izzy Bizu, which addressed the question, "Has birthplace played a role in your poverty or prosperity?"
The organization also has begun reaching young women aged 18 – 24 through their two recently accredited college programs under The Studio Samuel Institute of Art & Technology. Art, which teaches sewing, embroidery and other practical textile skills and Technology, which has a STEM-focus, featuring a computer lab with opportunities to learn code.
A mentorship program that matches professionals with students to provide one-to-one online support is now being implemented with the help of The White Feather Foundation. Currently in the pilot phase, it's too early to report progress, but we're encouraged by the enthusiasm of all involved.
When asked what Horton wants most to convey to our supporters, she replied, "How much donors can change the trajectory of a girl's life with so little."
Quantifying that, she provided the following compelling numbers, based on monthly recurring giving:
For $10 An entire month of safe transportation to and from class is provided.
For $30 The basic clinical needs (such as medications and labs) are provided.
For $50 One month of tutoring for 25 girls is provided.
For $75 School supplies for all who are enrolled are provided.
For $500 Scholarships for 10 girls to enroll in the program are provided.
Studio Samuel is hosting an event at Rosalind's Restaurant in the Little Ethiopia district of Los Angeles on March 8 to commemorate International Women's Day. If you'd like to attend,
RSVP here
.