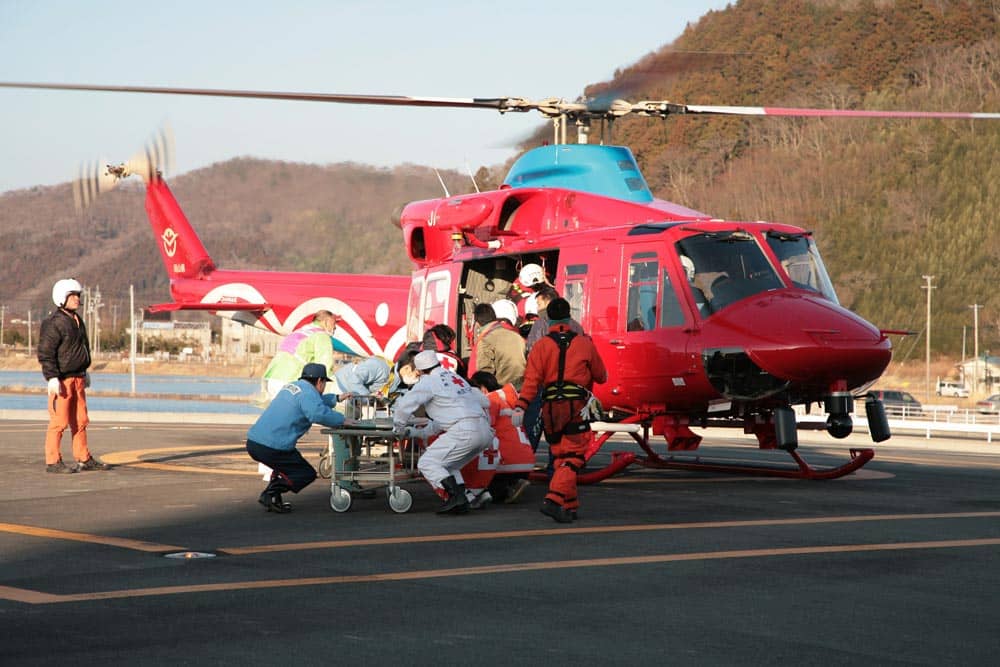 The Japanese Red Cross Society airlifted patients to Ishinomaki Red Cross hospital in Miyagi Prefecture. Toshirharu Kato, Japanese Red Cross ©IFRC
Following on from the devastation caused by the Japanese earthquake (magnitude 9.0) and subsequent tsunami in 2011, The White Feather Foundation supported the British Red Cross' emergency appeal with a donation of £10,000.
This update has been provided by the British Red Cross to share a Five Years On Update report to demonstrate the impact that support has had on the lives of those affected by these terrible natural disasters.
On the 11th March 2011, Japan was struck by a magnitude 9.0 earthquake. To put this into context, this earthquake was more than an order of magnitude greater than that which devastated Nepal in 2015. Incredibly, it was powerful enough to move Honshu, the main island of Japan, 13 feet closer to the USA. The earthquake triggered a devastating tsunami, with waves estimated to have reached 38 metres in height in some places. The disaster claimed the lives of 15,893 people, with a further 2,567 people still classified as missing, according to the Japanese National Police Agency.
In the immediate aftermath of the disaster, the main focus of the Japanese Red Cross Society (JRCS) was on providing emergency medical care to survivors and psychosocial support. Once the immediate health, shelter, food, water and sanitation needs were being met, longer-term support was provided to rebuild lives and livelihoods.
JRCS supported the reconstruction of temporary or permanent hospitals in Miyagi and Fukushima that were affected by the disaster, including the Ishinomaki Red Cross Hospital, which received funding to build a temporary hospital ward and emergency health training centre to enhance the hospital's capacity. In the Iwate and Fukushima prefectures, homes for 798 older people were constructed, as well as three school gymnasiums for 1,088 children.
The combined earthquake and tsunami triggered a triple meltdown at the Fukushima Daiichi Nuclear Power Plant, leading to large scale radioactive contamination of several districts and the need for immediate evacuation of nearby communities. Whole body counters, which measure the radiation exposure of the body, were provided to six cities and towns in Fukushima; a total of 274,612 people have had health checks and been examined using these machines as of 31 October 2015. In Miyagi and Fukushima Prefecture, JRCS provided 109 radiation scanners to check the levels of radioactivity in food.
Parents in Fukushima had been wary about allowing their children to play outdoors because of the radiation. To meet their needs, 13 sessions of the Smile Park temporary indoor playground were held in 2012 and 2013, benefiting a total of 53,538 children under the age of five. At the Smile Park, children enjoyed indoor slides, trampolines, a jungle gym and ball pools.
To prepare for future disasters, JRCS has invested heavily in disaster preparedness. The organisation's disaster response capability has been enhanced with new equipment and 432 warehouses have been equipped with disaster response materials (e.g. water supply systems and lighting equipment). Additionally, JRCS has established a Nuclear Disaster Resource Center, which features a new manual for responding to nuclear accidents to ensure a more effective response in the case of any future nuclear accident.