This is the third in our blog series "15 Years of Conserving Life," to commemorate our 15th Anniversary at TWFF and highlight specific collaborations that have made a meaningful impact on the world.
Nori promotes the reversal of climate change through their innovative carbon removal marketplace. They create and sell Nori Carbon Removal Tonnes (NRTs), each of which represents one tonne of removed CO2e, stored for a minimum of ten years.
They presently achieve this through the US Cropland Methodology, which enables farmers to get paid for CO2 removal using regenerative practices. A very intricate process of data collection from the farmers, 3rd party oversight and verification confirm credibility for each project.
The White Feather Foundation NRTs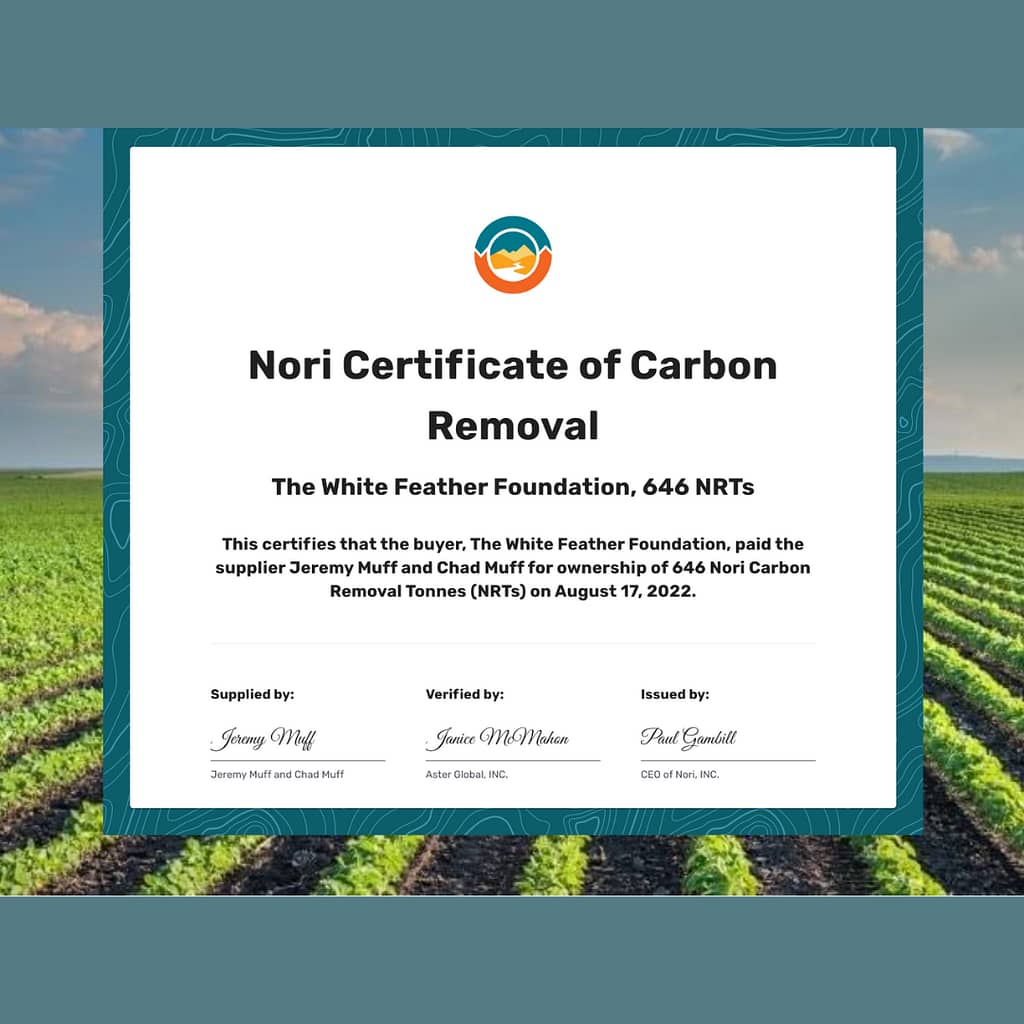 A portion of the proceeds from the sales of our founder, Julian Lennon's NFTs earlier this year were donated to purchase these NRTs. Nori sent details about the specific farm these NRTs will help:
The Muff family began farming in west central Iowa in the early 1900's. The evolution of the farm went in to warp speed at the expense of a family death in World War 2. Once the next generation of children became older, Muff Corp was founded in 1975. Since then the farm has grown to operate nearly 8,000 acres and currently the 4th generation is paving the way for a transition to the 5th generation. 

Muff Corp has made numerous operational changes in the last decade for the betterment of their land. A large change was shifting to no till corn and soybeans, including corn on corn, drastically changing their historical tillage practices. In 2015 the farm adapted application of plant food in replacement of old fertilizer practices, creating more emphasis on regenerative fertilizer practices. In addition, the farm now uses numerous species of cover crop practices, grazing cattle on corn stalks and stover to assist with residue management and in turn spread cattle manure as a source of fertilizer and most recently began variable rate seeding practices with technology advancements.
Carbon Removal Location Contribution
In addition to the beneficiary farm, each NRT purchase allows the buyer to designate a location to receive credit for the carbon offsets. The White Feather Foundation chose Blackpool, Lancashire in the United Kingdom in honour of Cynthia Lennon's birthplace.