UPDATE: Nepal Earthquake Relief
Music for Relief is grateful for the $106,347.52 donation from The White Feather Foundation for Nepal earthquake Relief and Recovery. 100% of these funds have been used for emergency medical treatment, medicines and medical supplies, shelter, and water and sanitation solutions.
On April 25 a 7.8 magnitude earthquake struck Nepal, with the epicenter in Lamjung District, about 50 miles northwest of Kathmandu.  Some 8 million people were affected – more than a quarter of Nepal's population – including 2.8 million displaced from their homes. The quake caused widespread damage and destruction of buildings, health facilities, roads and other public infrastructure.
On May 12, a second 7.3 magnitude earthquake struck, with its epicenter near Namche, at the base of Mt. Everest, exacerbating an already difficult situation. PROJECT: Nepal Earthquake Relief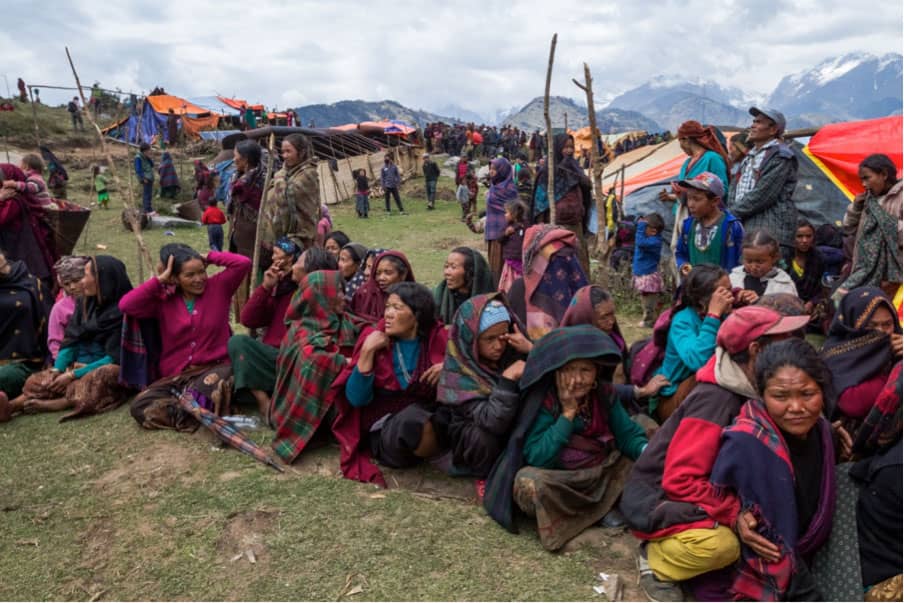 Impact on Health Infrastructure
It should be noted that the earthquake and subsequent aftershocks caused significant damage to health facilities in Nepal. In June, the Government of Nepal conducted a post-disaster needs assessment to determine the full extent of damages caused by the earthquake. Prior to the earthquake, Nepal had about 4,100 public health facilities, ranging from specialized hospitals to local village health posts. After the earthquake, the government determined that nearly 450 public health facilities had been completely destroyed, while another 700 were partially damaged. Of the country's 350 private health facilities, 16 were destroyed and 64 were partially damaged.
Although there was significant damage to health equipment and supplies, most of the damage was to physical infrastructure. However, as of mid-July, basic health services had resumed in roughly 99 percent of health facilities—including through temporary structures, such as tents, set up near the original facility. Efforts are ongoing to repair or replace damaged structures with something more permanent—part of the government's longer term earthquake recovery plan. Future contributions to Music for Relief may be used to help our partners, International Medical Corps, to rehabilitate at least 13 facilities.
Impact on Shelter, Water & Sanitation
With more than 90 percent of homes destroyed in some districts, and waterborne diseases remaining a threat, thousands of people still need ongoing support.
According to research Oxfam conducted in Dhading district, women and adolescent girls feel at risk of physical and sexual abuse in overcrowded temporary shelters where there is often no privacy or solid walls. Communal toilets and unlit areas were also cited as insecure places. In many of the worst-affected districts, multiple families are living outdoors under tarpaulins or structures made from metal sheets. Therefore, survivors need assistance to get out of temporary shelters as soon as possible. The distribution of building materials, including corrugated iron sheeting, so that people can build more robust shelter is critical.
Poor access to health services and clean water is creating a health risk, especially for pregnant women. There is ongoing need for clean drinking water, hygiene kits – ideally gender specific, and sanitation facilities, including separate toilet blocks for women and girls in order to keep them safe.
This update has been provided by our charity partner Music for Relief.
Over the past three months, Music for Relief has contributed more than $350,000 total to aid the survivors in Nepal, of which $106,347.52 was generously provided by Julian Lennon and supporters of The White Feather Foundation.
Thank you for supporting the Nepal Earthquake Relief.