Desertification, where fertile land loses its biological productivity, happens because of inappropriate land use in vulnerable dryland ecosystems. Everything from overgrazing to poor irrigation practices to political instability can be blamed for this formerly healthy arid land.
The United Nations declared June 17 the World Day to Combat Desertification and Drought to bring awareness about ways communities can help prevent future desertification and preserve biodiversity. This aligns with Sustainable Development Goal No. 15:
Life on Land
.
This year's theme, "Food. Feed. Fibre." is intended to help individuals identify ways they can lessen their impact. The stresses put upon land to provide more food for humans, feed for animals and fibre for clothing as the population increases, are so great that available areas for growth are depleting rapidly. That, coupled with the harm done by climate change makes the situation dire if our patterns of production and consumption don't change.
This infographic gives a snapshot of what we face on a global scale.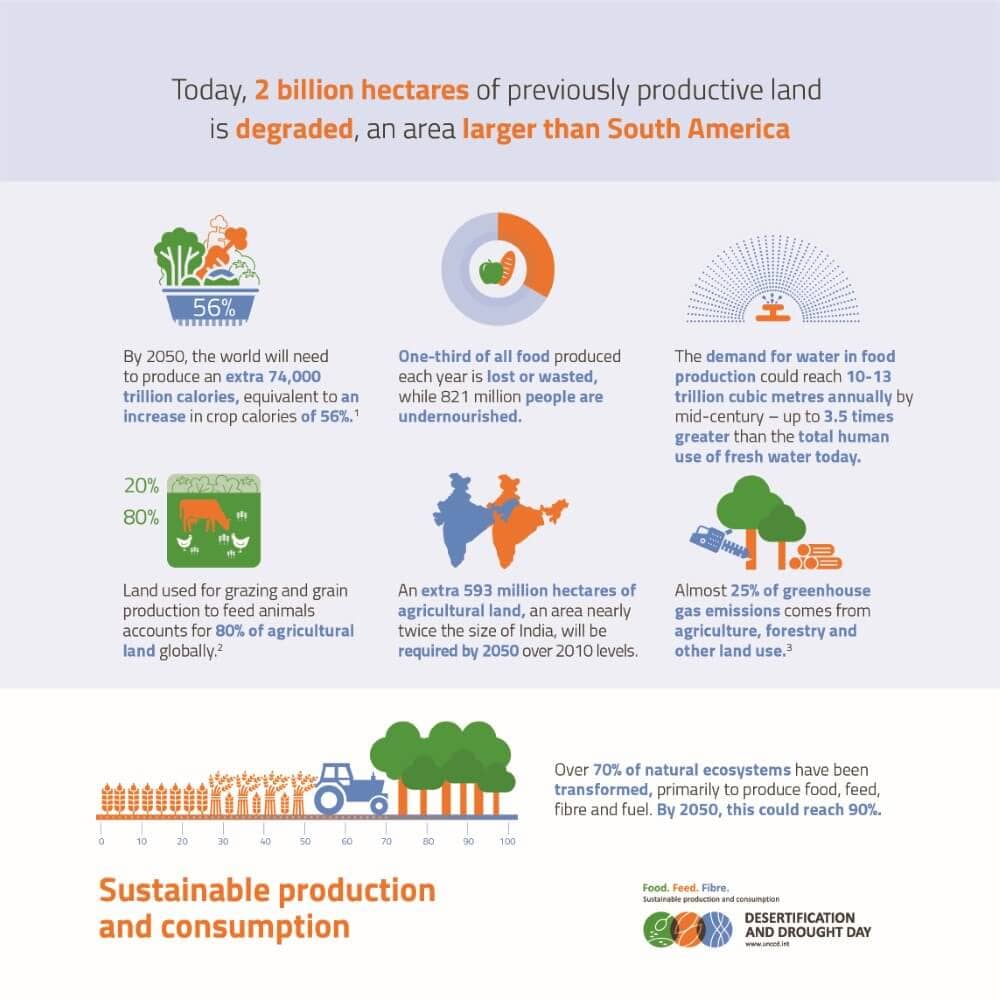 Reading those statistics may leave you scratching your head wondering how one person could make a difference, but it is possible. Here are a few ways to take action:
Be a mindful producer. If you utilize land to grow food or raise animals, or you create clothing, be sure you're adhering to ethical, sustainable practices.
Be a thoughtful consumer. Participate in fashion swaps, donate old clothes to thrift stores and charities instead of throwing items out, buy food from local markets and try not to overbuy so you can aim for zero waste.
With just a few small changes to our routines and a modified way of thinking, we can all make a difference.
At The White Feather Foundation, we continue to partner with charities across the world to help conserve life in a number of ways. We're always grateful for your donations in any amount, as every little bit helps. To give, visit the Support our Environment page on our website.
Photo credit: John Lambeth.