When we think back to time spent in school classrooms, it's likely most of us envision the wooden desks that faced our teacher and the whiteboards (or chalkboards, in our case) that were used to solve equations or memorise words. 
We may remember a class pet, or for us daydreamers, the nearest window that we gazed out of, letting our imaginations take us to faraway places.
For girls in Afghanistan, classrooms look a lot different these days.
In December, the Taliban banned girls from attending elementary school, which was in addition to previous bans on attending high school and university, effectively making girls and women in their country unable to seek an education at any age.
In response, girls are resisting in the least dangerous way possible—by conducting their studies in secret. Families have transformed spare rooms, basements and other spaces into makeshift classrooms, complete with bright colours, shelves of books and supplies. 
The brave girls who attend these underground lessons with former teachers or others in the community, give no indication of their destination en route, concealing any notebooks or other identifiable objects beneath their hijabs. While human rights groups and governments alike have condemned the actions of the Taliban, so far there's no evidence they'll reverse their decision.
On this International Day of Education, we focus on the importance of eliminating gender discrimination in education. While Afghanistan is the most extreme example of this issue, in several countries gender plays a role in the quality of education a child receives.
In Iran, for example, where the situation regarding women's rights has been volatile for months, girls are permitted to attend school, but only allowed to learn arts and humanities. Since the legal 'maturity' age is nine, girls can also be pulled out of school quite young to marry or be forced to work and help earn money for the family.
In Ethiopia, girls are allowed to attend school, but only 25% make it to secondary school due to a variety of persistent issues in the country, such as poverty, disease and child marriage.
In the United States, there are no restrictions on girls attending school, but analysis of past incidents indicates they are at a greater risk of being targets during a school shooting. Because over 74% of U.S. teachers are women, they're also at a greater risk for being victims, like the Virginia teacher who sustained life-threatening injuries a few weeks ago, after she was shot—intentionally—by her 6-year-old student.
We have to help construct a better path forward.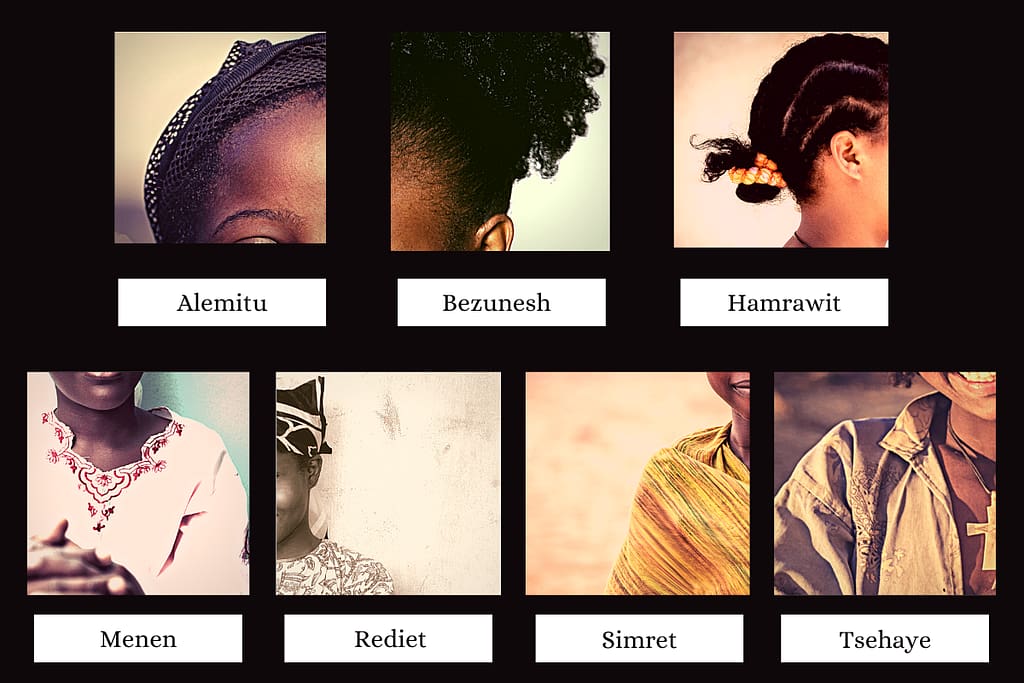 Snapshots from Studio Samuel
In August, we announced the 2022 recipients* of The Cynthia Lennon Scholarship for Girls who attend Studio Samuel in Ethiopia. Now, we'd like to introduce you to all of them:
Alemitu lost her mother when she was 4 and her father when she was 10. When her parents were alive, she attended school in her rural community. After her father passed, she shepherded livestock in exchange for room and board from a local family member. By age 14, she couldn't accept that she'd never be able to return to school, so she ran away to the city. There, another family, who is supportive of education, welcomed her, only requiring household chores in exchange for her stay. Now 15, Alemitu is committed to finishing high school and getting the training and job skills that Studio Samuel provides.
Bezunesh is one of 6 children in a family where the father is ill and unable to work regularly. Food is scarce and she's determined to make a better life for herself after witnessing her parents' struggle. With a love for geography and desire to pursue a career in teaching, now 15, Bezunesh has her sights set on finishing high school and advancing to college.
Hamrawit, age 17, is a recent refugee of the war in the North. She and her mother fled their home with no food, money or personal belongings. At her prior school, Hamrawit ranked #1, and after a year of missing classes because she had no records to transfer with, she's now enrolled in a new school in the capital city and ranked #3. Her goal is to attend university and become an engineer.
Menen, like many girls born into poverty, has faced gender-based violence, witnessed abuse in her home and has been forced into child labour. She was also temporarily displaced from her family. Throughout all the challenges, 13-year-old Menen claimed her biggest loss was not having steady access to school. After entering Studio Samuel, she has enrolled in school full-time and is on track to advance to the next grade.
Rediet, now age 16, lost her father at age 7 and her older sister was the victim of a forced marriage by abduction at age 14. Soon after her sister was taken, the elders began asking her mother for her, so she escaped to the city and moved in with a family acquaintance who enlisted her in child labour to earn her room and board. As a result, she missed two years of school. Now, she's back on track to finish high school and the time she's spent learning in the Studio Samuel sewing lab has inspired her to become a clothing designer.
Simret grew up in a loving, peaceful home and excelled in school, ranking #5 in her class, with a special affinity for technical drawing classes. That existence changed drastically when two years ago, her mother married a controlling, abusive stepfather who ordered Simret to leave the home. Now, just 17, Simret lives on her own, eating only on the days when her mother is able to sneak away and provide food. Though her primary concern is her mother's safety, she is focused on her education and pursuing her goal of becoming an architect.
Tsehaye has grown up watching her mother struggle to provide for their family of five as her father is disabled and unable to work. Now at age 17, she thrives in school, consistently ranking between 5 and 10 in her classes, and especially enjoys biology. Inspired by her dad's handicap, her goal is to become a doctor. 
We look forward to sharing more updates with you about these remarkable girls as their journeys continue.
Whether it be through monetary donations, social media shares or volunteer time, the following organisations focused on the betterment of education, are worthy of support:
We also accept donations year-round for The Cynthia Lennon Scholarship for Girls and our Education & Health area of giving. Each and every contribution is greatly appreciated.
Educated women create stronger communities—let's unite to close the gender gap and provide equal opportunities for everyone.
Food For Thought, 2014 © by Julian Lennon, is part of his Kisumu-Kenya Collection. View all of the works on Julianlennonphotography.com.
*Names of students have been changed to maintain their privacy.